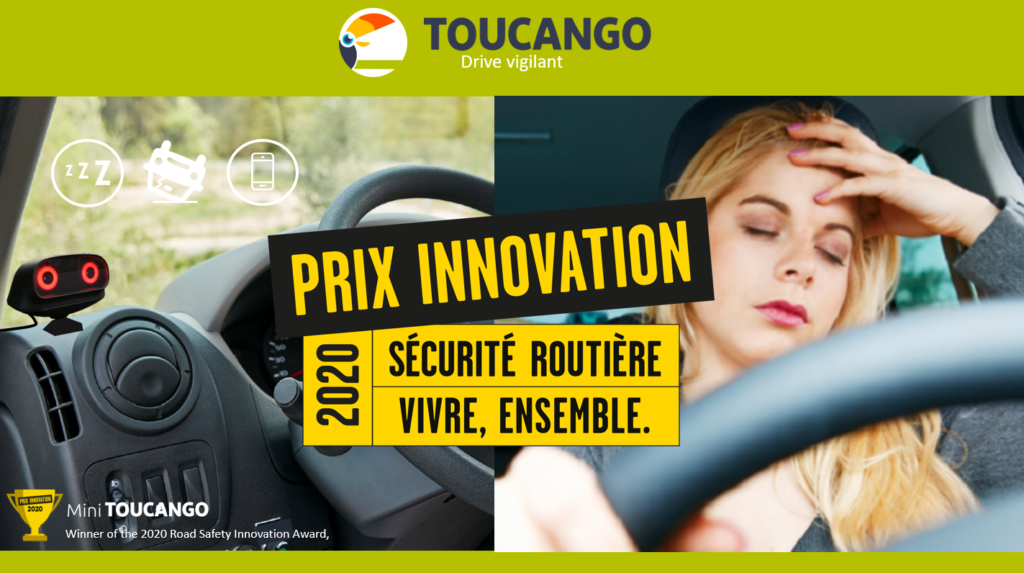 MiniTOUCANGO: 2020 Road Safety Innovation Prize
MiniTOUCANGO Winner of the 2020 Road Safety Innovation Award, Category "Awareness of road safety by employers"
Reminder on the French national competition: "Road Safety organized for its 4th edition, two road safety innovation contests. The Innovation Prize, aimed at businesses, aims to label innovative products and services that make the road safer. The Innovation Challenge, meanwhile, rewards the three best student initiatives, in partnership with the National Office of Engineering Students (BNEI), the Conférence des grandes écoles (CGE), the Conference of University Presidents (CPU) and the Conférence French engineering schools (CDEFI). These contests are intended to highlight virtuous initiatives in road safety carried out by entrepreneurs, startups, groups and students, to encourage innovation in this area.
The juries of these two competitions, chaired by Emmanuel Barbe (then interministerial delegate for road safety *) for the Innovation Prize, and by David Julliard (assistant to the delegate) for the Challenge Innovation, and made up of road safety professionals, met in January and February 2020 to select the best innovations from 68 applications for the Innovation Prize and 47 for the Innovation Challenge.
"Among the 8 winners of the 2020 Innovation Prize which rewards marketed and virtuous products and services in terms of road safety, the MiniTOUCANGO was elected for the category" Awareness of road safety by employers.
The MiniTOUCANGO is a small box which assists the driver for vigilant driving.
It detects the first signs of drowsiness and distraction while driving and warns drivers with audible and visual alerts. The MiniTOUCANGO box is currently intended for businesses. It aims to reduce the road risk linked to fatigue, drowsiness but also to distracted driving. Predictive audio and visual alerts issued by MiniTOUCANGO support and secure the driver in his mobility activities. And the company and its driver have access to anonymous statistics, thanks to the data collected, transmitted and secured by the box, making it possible to assess the risks of drowsiness and distraction within the company, and to take actions to reduce this road risk.
The TOUCANGO by Innov + team, we are proud of this award, and thank each of our client, supplier, technology, and financial partners.